Charity Donations
11 June 2018
We did it! A fantastic team effort helped raise over £7,000 for two worthy charities
Over £6,000 for the Helen Rollason Cancer Charity
We'd like to thank everyone who got involved in our charity clay shooting event to help us raise a total of £6,119.52 for the Helen Rollason Cancer Charity – a cause very close to our hearts following the passing of our good friend and colleague Richard Dale. Richard was a special friend to many people. He was always happy, always making everyone laugh, he really cared about the people around him and loved his family dearly. Richard was very grateful for the support from the Helen Rollason Cancer Charity, he was able to receive treatment that not only extended his life, but gave him more quality of life for an additional nine months. We're happy to be able to provide this charity with some support to allow it to continue it amazing work, supporting those who battle everyday against this horrible disease.

£1,100 for St Elizabeth Hospice
We'd also like to thank everyone who got involved to help us raise £1100 for St Elizabeth Hospice in Suffolk. The ladies at our Felixstowe office took part in the 2018 Midnight Walk. The hospice provides vital care and support for people living with progressive illnesses.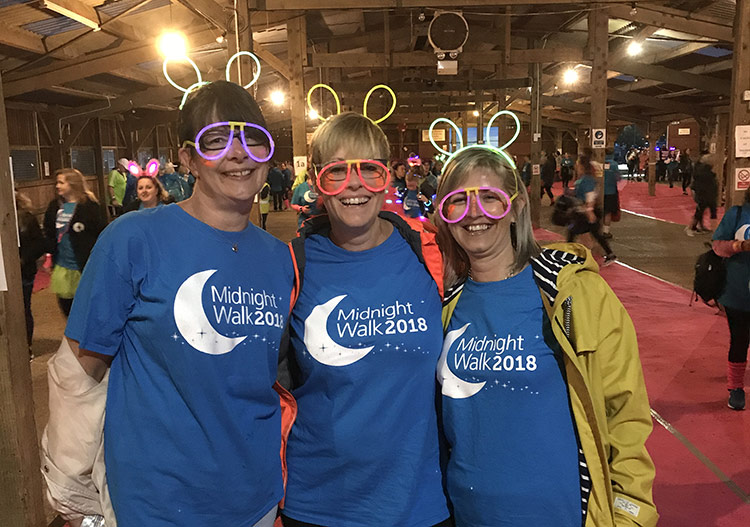 Sign up to our newsletter
To receive bi-monthly industry updates, plus opinion and insights from our expert Logistics Consultants, sign up here.
This site is protected by reCAPTCHA and the Google
Privacy Policy and Terms of Service apply.