Dynamic resourcing & a fresh approach to creating tailored supply chain solutions
30 June 2015
An interview with James Morris, Partner & Divisional Director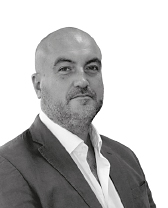 Q: Tell us about Allseas Global Supply Chain – why was the company set up?

Allseas Global Supply Chain is a part of the well-respected Allseas Global Logistics Group. We have gathered together an incredibly experienced and knowledgeable team with a wide range of expertise across the supply chain and logistics industry. We believed there was a gap in the market for a client-led omni-channel solutions provider. The USP of our division is that our lead executives have held senior logistics titles within the retail, manufacturing, military, aerospace and automotive sectors. This gives us a client-based perspective not found within our competitors – which, in our opinion, can't be beaten.
Q: Tell us about your career and you experience so far.
I have always worked in the logistics/supply chain sector, starting in the export department of GKN Freight Services in the 1980s. Since then, I have worked both nationally and internationally, through liner, retail, manufacturing and consultancy, with some of the world's best known companies – including Wolverine, APL, OOCL, MH Alshaya and Kingfisher (owner of B&Q). Most recently, I was working with OKI Europe Ltd, and that is how I got introduced to Allseas.
Q: How has your experience helped in creating the services Allseas Global Supply Chain is offering?
I am able to use my experience in both retail and liner sectors. I know what the retailer wants – depth of stock and availability. And I know what the shipping line wants – reliable forecasting from its clients. It's incredibly valuable being able to look at a supply chain from the understanding of both sides. It enables me to create an end-to-end proposal that is best for all concerned.
Q: You have talked about going 'beyond logistics' – can you explain?
We think from the client's point of view, and that means taking into consideration the heritage, brand and people involved. It is up to us to give clients the best solution within the bounds of their business. If you care or understand what it means to be that business, then you will think way beyond the basics of A to B. If you don't really understand the needs of your client, then you are just the same as any other logistics provider.
Q: Tell us about the Dynamic Resourcing product.
Dynamic Resourcing is the smart word for a 'plug and play' human resource solution. All businesses have peaks and troughs – we understand that and hence we offer them the ultimate solution, an instant team of specialists to be em bedded where and when they need them. The team will range from industry veterans through to the best graduates. The result? Flexibility and scalability. We source the best people – we know that, because we keep losing them to our clients! More than 80% of our dynamically resourced team members have been taken on full-time by our clients. We say it's a bit like 'try before you buy'.
Q: How was Allseas Global Supply Chain set up?
James Morris: The company was created by Darren Wright, managing director of Allseas Global Logistics, working with me and Richard Gane, who has 15 years' specialist knowledge in supply chain management. Richard began his career in hospitality; that gave him a unique insight into customer service, which he subsequently brought to logistics. Before helping to set up Allseas Global Supply Chain, Richard spent five years as Allport's regional director in the Middle East. Also on the team are Stuart Jones and Joe Elliott.
Q: Any early successes to report?
Yes, several! A great example is our work with Hornby. We carried out a full end-to-end review of the Hornby supply chain, which was based on an old, unfit-for-purpose manufacturing plant in Margate, with inefficient layout and outdated WMS, leading to high costs and consistent late deliveries.
We needed to source a new warehouse to enable the consolidation of both UK and European stock; after a tendering process which we managed, Hornby appointed DS Logistics to run the new warehouse, within 11 miles of the old facility. We also organised the preparation and physical move from Margate to the new site at Hersden, oversaw its WMS and Customs IT platform design and coordinated the relocation of staff. All of this was achieved while maintaining Hornby's brand heritage, consumer confidence and Hornby family values.
For more information about how Dynamic Resourcing can help support your business visit: www.allseasglobalsupplychain.com
Sign up to our newsletter
To receive bi-monthly industry updates, plus opinion and insights from our expert Logistics Consultants, sign up here.
This site is protected by reCAPTCHA and the Google
Privacy Policy and Terms of Service apply.